Recently on a trip to Leavenworth, we had a wonderful lunch at a restaurant named Sulla Vito. They served Brussell Sprouts with dried figs.  It was amazing!
Here is a recipe I found that sounds similar:
Ingredients
8 ounces Pancetta (small dice)
2 pounds Brussels Sprouts (stems trimmed)
1/4 cup finely chopped Onion
2 cups Dried Figs
Salt and freshly ground Black Pepper
4 teaspoons Balsamic Vinegar (or more to taste)
Put a large skillet over medium heat and add oil, then the pancetta. Cook, stirring occasionally, for 5 minutes. Add the onion and cook until the onion begins to color and the pancetta is medium-crisp.
Meanwhile, slice the sprouts as thinly as possible. Add sprouts, figs and 1/4 cup water to pan. Sprinkle with salt and pepper.
Turn heat to medium, and cook, undisturbed, until sprouts and figs are nearly tender—adding more water as needed until tenderness is achieved—about 5 to 10 minutes.
Turn heat to medium-high and cook, stirring occasionally, until any remaining water evaporates, another 5 to 10 minutes. Add vinegar, and adjust seasoning. Serve.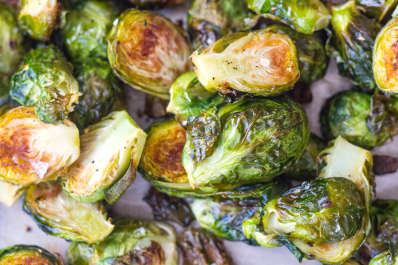 It's hard to beat a simple sheet pan of crispy roasted Brussels sprouts; it's a fall and winter side dish that goes with basically everything. And while roasted Brussels sprouts are great served plain and simple — with just olive oil, salt, and pepper — sometimes it's fun to play around. Start with a basic recipe like this one and add a little bit of this and that from your pantry to give this wholesome side dish an upgrade. Here's how to do it.
1. Finish with lemon and lots of Parm.
Sometimes the simplest upgrade can feel the fanciest. Toss roasted Brussels sprouts with a big squeeze of lemon juice and lots of grated Parmesan cheese to channel your inner Ina.
2. Toss in something crunchy.
Roasted Brussels sprouts are already nice and crispy, but adding extra crunch is never a bad idea. Finish them with whatever nut or seed you have on hand (toast them first) like pepitas, sliced almonds, pistachios, or chopped walnuts.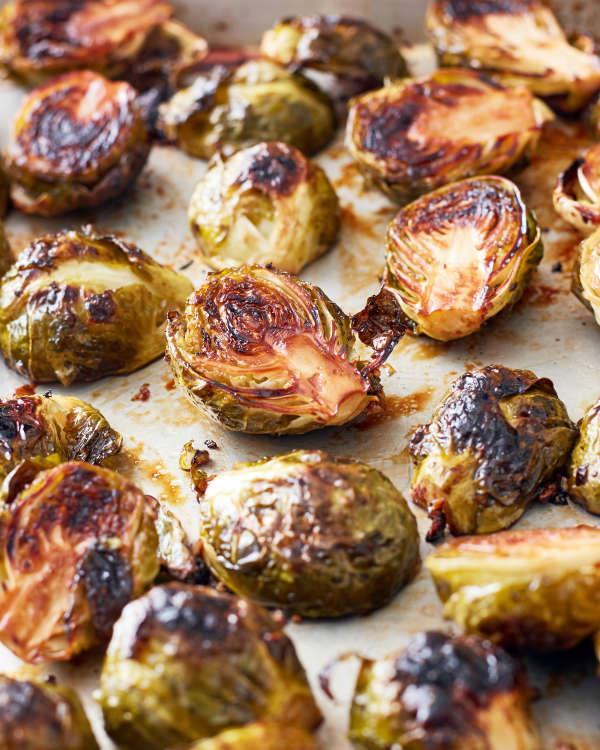 3. Bathe them in a balsamic glaze.
Tangy balsamic vinegar is arguably the best match for earthy Brussels sprouts. Toss them in a splash or two right after you take them out of the oven so they soak up the flavor.
4. Make them spicy.
Add a little heat if that's your thing. Toss the sprouts in a bit of Asian chili-garlic sauce or sambal oelek along with olive oil, salt, and pepper to give them a fiery slant.
5. Just add bacon.
When in doubt, reach for bacon. Its fat will latch onto the sprouts as they roast and make them restaurant-worthy. Plus, it's a sure way to win over those who usually turn their nose up at the vegetable.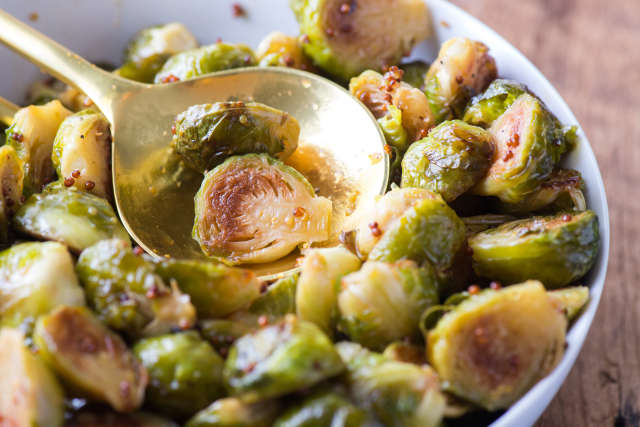 6. Embrace honey mustard.
Honey mustard works well with pretty much everything, including Brussels sprouts. Honey's sweetness tames the sprouts' inherent bitterness, while mustard adds tang.
7. Pile them on a plate filled with something creamy.
Here's the move: Spread a thin-ish layer of ricotta or plain Greek yogurt on a serving platter. Once the Brussels sprouts are roasted, pile them onto said plate. Then with each scoop of the sprouts, you'll get some creamy richness. Plus, it makes for a fancy presentation.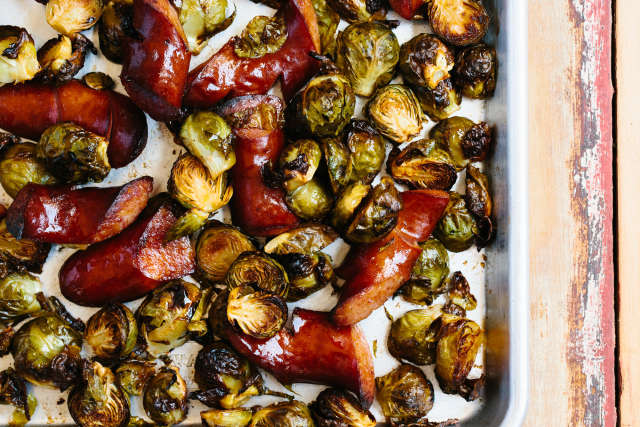 8. Roast them with sausage to turn them into dinner.
Might as well make a sheet pan dinner if you already have a sheet pan of sprouts roasting in the oven! Toss some precooked sausage on the sheet pan to warm and crisp up at the same time.
9. Dig around your spice drawer.
There's plenty to play around with in your spice drawer alone. Along with salt and pepper, sprinkle the sprouts with ground cumin or smoked paprika, or go for a spice blend like curry powder, garam masala, or za'atar.
10. Add little fish sauce.
Fish sauce might not be the first thing that comes to mind when thinking about what to use to upgrade Brussels sprouts, but trust us on this one. Add a splash or two when you're tossing the sprouts in olive oil; it will give them a Thai-inspired, umami richness that's both surprising and wonderful.